CARNARVON TRACKING STATION


1964 — 1975
This site has been built to honour all those who contributed to the outstanding successes achieved by the Carnarvon Tracking Station; their many friends and associates from those days; and the town that was our home.
---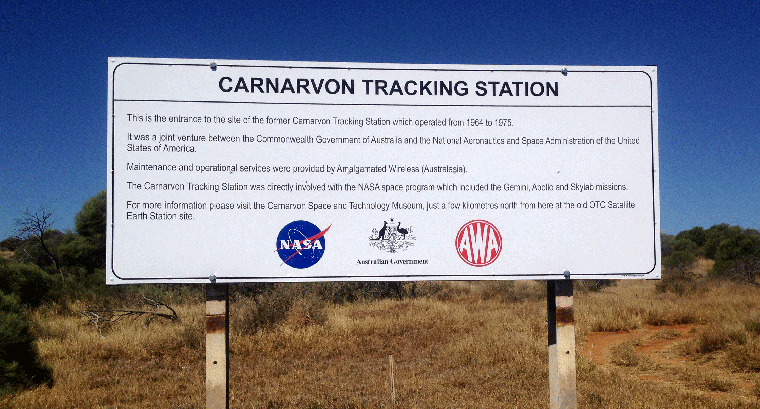 Carnarvon Space Tracking Station was sited on Brown Range, about six air kilometres from the town of Carnarvon, and occupied 259 hectares. It cost $4.5 million dollars to build and its operating cost was about $5 million a year (in the dollar value of the sixties).
It was established by the then Department of Supply on behalf of N.A.S.A., with all maintenance and operational services provided by Amalgamated Wireless (Australasia) Ltd.
The station comprised three major complexes, the Manned Space Flight Network (MSFN) facility; the Satellite Tracking and Data Acquisition Network (STADAN) facility, aka Range and Range Rate; and the Solar Particle Alert Network (SPAN) facility.
The first tracking was in January 1964, when Ranger 6 was plotted during its first few hours of flight to the moon, by the FPQ-6 radar.
The final track was an AE-C pass on Friday, October 4 1974.
The official closing ceremony took place on Wednesday,
6th November 1974.

The Station closed its doors at 5pm WAST on April 18 1975.
CONDOLENCES
It is with great sadness that I write with the news that Paul Dench passed away peacefully on Friday 26 June 2020 in Perth.
Paul was a great chronicler of CRO and its history, his book with Allison Gregg - Carnarvon and Apollo - is a fitting legacy to his work.
Paul also contributed significantly to the Carnarvon Tracking Station information on the honeysucklecreek.net website and was also the administrator of the NASA Carnarvon Tracking Station website Carnarvon Space and Technology Museum.
Carnarvon Tracking Station - Aerial View - Central Area         Photograph - Terence Kierans
Clockwise:
- USB Antenna
The Unified S-Band System was installed primarily for manned lunar missions, but it was also used to track some scientific spacecraft and the ALSEP packages. It had a 9m diameter antenna located in front of the T&C building.
- Telemetry & Control Building
Housed the various operations control rooms, acquisition aid, air-to-ground, computer, recording, and telemetry equipment; in addition to administration and management offices, canteen and ablution facilities.
- Verlort Radar
Initially installed at Muchea for the Mercury earth orbit space flights. Available as back-up radar for Gemini missions.
- Acquisition Aid Antennae
Designed to receive the spacecraft telemetry signals shortly after horizon time and track the spacecraft with sufficient accuracy to provide suitable pointing data to other, narrow-band, tracking and command systems.
- USB Equipment Room
Sensitive receiving equipment and a 20kW transmitter were built into equipment compartments in the antenna structure. The remainder of the system occupied a large control room in the T&C building and was interconnected with most other equipment in the T&C area.
Carnarvon Space and Technology Museum